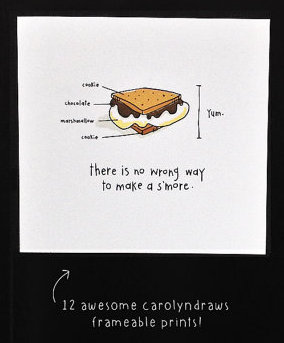 "First, you take the graham. You stick the chocolate on the graham. Then, you roast the mallow. When the mallow's flaming, you stick it on the chocolate. Then you cover it with the other end. Then, you scarf."
– Hamilton "Ham" Porter from the Sandlot.
Once again, food art!
CarolynDraws is a Toronto artist whose adorable works are so reminiscent of childhood treats. At least ones I remember as a kid. And the roasted marshmallow pieces are especially prescient, as I roasted my way through half a bag of marshmallows while camping in Utah last week.
You can buy her pieces from her Etsy site.