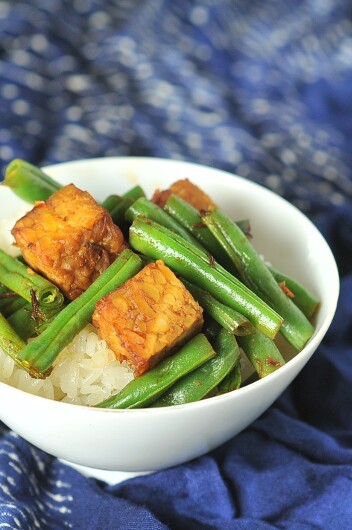 This tempeh recipe is a riff on a dish that we love at our favourite Chinese restaurant here in Toronto. The beans in that case are mixed with a bit of ground pork, but here I replaced it with some tempeh.
Originating in Hong Kong, XO Sauce is a Chinese sauce made from dried seafood, including shrimp, scallops, and fish. The seafood is mixed with chili and garlic to create a somewhat chunky paste packed in oil. The 'XO' part of the name stands for 'Extra Old,' similar to labels for XO cognac. While there is no alcohol in XO sauce, it is marketed the same way as the French liquor. I find it has a rather plain flavour when used by itself and not at all spicy, but just a dash of salty soy sauce brings everything together in delicious, umami harmony.
Look for XO sauce (there are various brands) in Chinese grocery stores. As it is a purely Chinese ingredient, don't expect to find it in Korean or Japanese supermarkets. Luckily for us, there are several Chinatowns in Toronto, and this was easily found next to all the other common sauces.