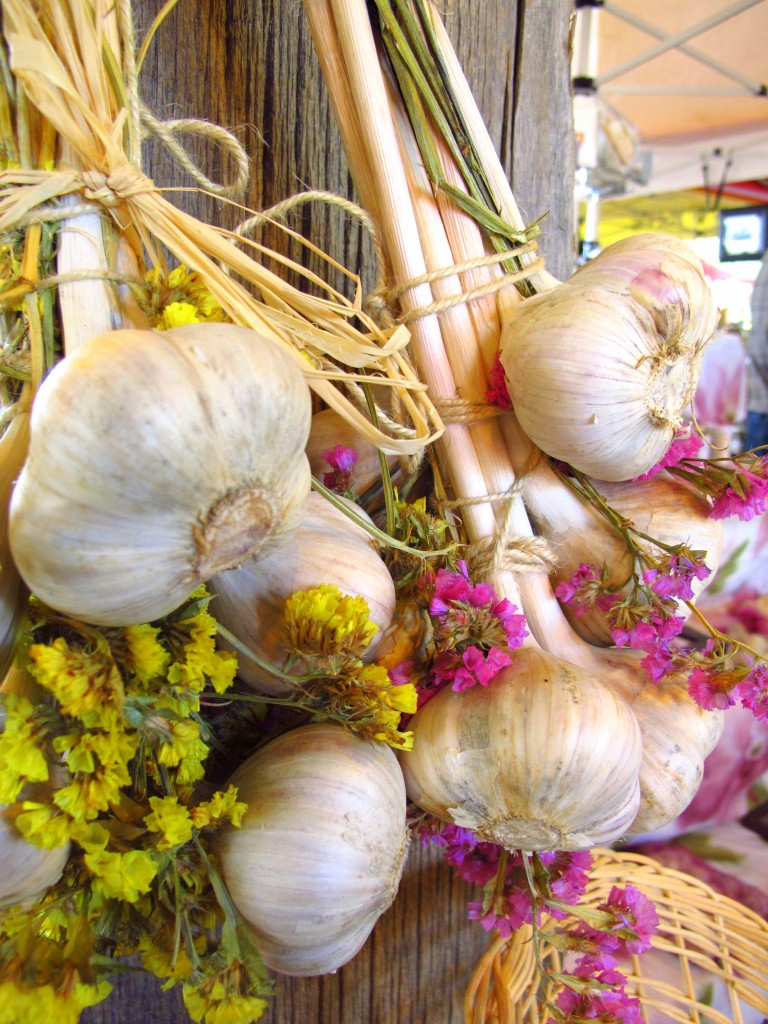 For the third year in a row, I sampled the garlic at the Toronto Garlic Festival at the Evergreen Brickworks. There are several Ontario farms that grow garlic, but it is pretty much impossible to find in Toronto grocery stores. Started in 2011, the Toronto Garlic Festival celebrates this precious Ontario-grown garlic. About ten varietal groups of garlic exist, and the most common are the hardneck varieties of Porcelain, Purple Stripe, Marbled Purple Stripe, Glazed Purple Stripe, and Rocambole. The most common type of garlic grown in Ontario is "Music," a type of Porcelain garlic (with white, papery skins), but it is the Rocambole variety that is the spiciest.
I love bicycling down to the Evergreen Brickworks, and this year the Toronto Garlic Festival was much busier than in years past! There were many more garlic and food vendors, and the crowds were insane. I didn't see the garlic fudge that Rafael bought last year, and the chocolate garlic ice cream on offer was almost sold out. After Rafael got some garlic salsa and a tangy garlic mustard, we perused the beer on tap, Ontario wines, garlic pickles and garlic-infused chocolate.
I bought a sampling of bulbs from Little Trickle Farm. Heather, the grower, said that the Reliable variety was rather mild, and the Rosewood and Hungarian were stronger and more spicy. I've already cooked with some of the cloves, and they are delightfully juicy and crisp – not like the dry or soggy garlic you might find in big grocery stores.
Of course Rafael and I had to have a bite to eat! He had a skewer of the Gushi chicken and a black garlic butter tart from Smoked and Cracked, while I had a taste of Indonesia with my Tahu Goreng from Babi&Co. This veggie-stuffed fried tofu was served with a peanut sauce and Indonesian salsa, and it was sublime. Babi&Co was actually founded by a couple of Tomiko's classmates from the University of Guelph!
If you would also like to buy some Ontario garlic, you can find locations on the Ontario Garlic Map. It is more pricey than the ubiquitous Chinese garlic, but you get what you pay for. Being the garlic-lover that I am, the cost is totally justified.